We are so excited to announce this year's tee shirt design contest winner and kickoff our annual fundraiser! 
May is Mental Health Awareness Month, and now, more than ever, we need to find ways to stay connected with each other and our community. As in years past, all the kiddos who receive services at CCGC had the chance to partipate in a tee shirt design contest where they drew pictures of what CCGC means to them. Along with some prizes, the lucky winner also gets to have their design turned into a tee shirt. 
We have once again partnered with Bonfire to bring you so many awesome styles of tee shirts and sweatshirts, including the winning design from this year's winner, Cheyenne (you can read her story below)! When you make a purchase, Bonfire donates 15-20% of proceeds back to CCGC!
Check out out designs below and then go to Bonfire to see all the color choices and styles!
---
Meet Cheyenne!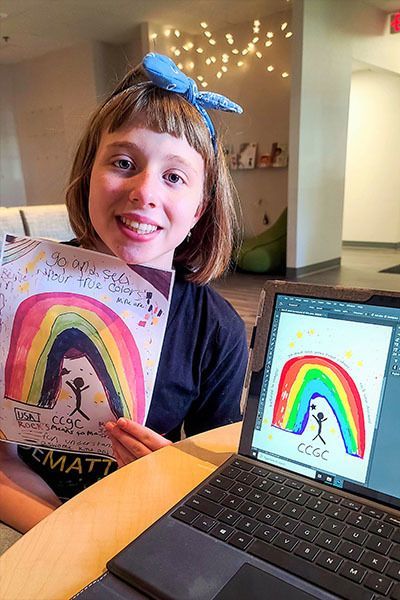 This shirt was designed by Cheyenne, one of the amazing kiddos who receives services at CCGC!
Cheyenne is 11-years-old, and she is a cheerful, bubbly, energetic girl with a love for unicorns, rainbows, dogs, and the USA (among many other things)! She loves to draw and is both an avid reader and writer - she even had an article published recently in her local paper. This young lady has a bright sense of humor as well, and our meeting was full of laughter as we talked about her views on the world, her experiences at CCGC, and her many dreams for the future.
Not only did Cheyenne create this design on her own, but she also assisted with the digital editing we did to create the finished tee shirt design you see here. This included making changes to the shades of some of the colors, and she was excited to see all the many possibilities available when editing a picture digitally. Together we worked through every detail, making sure we ended with a tee shirt of which she could be proud.
When creating her original drawing, Cheyenne wrote that, to her, CCGC represents a place that is kind and understanding. She also shared that all of the staff she has worked with have been really nice and fun to talk with. To children who might come to receive services at CCGC in the future, she says that it's a great idea and she recommends it! (She also told us that we have really cool coloring pages that she loved - which is excellent news!)
Cheyenne and her family are so special, and we feel so privileged to be a part of her journey. We hope that she continues creating as she grows up, and we can't wait to see what amazing things she does next!