We are so excited to bring you CCGC's annual tee shirt fundraiser!
May is Mental Health Awareness Month, but with the current COVID-19 health crisis, it's an especially important time to show our love for those who are directly or indirectly affected by mental illness. This year, we have partnered with Bonfire to bring you so many awesome styles of tee shirts and sweatshirts, including the winning design from one of the children who receives services at CCGC (you can read her story below)! When you make a purchase, Bonfire donates 15-20% of proceeds back to CCGC!
Choose from the many options!
---
---
---
---
---
---
Meet Brooke, our 2020 Tee Shirt Design Winner!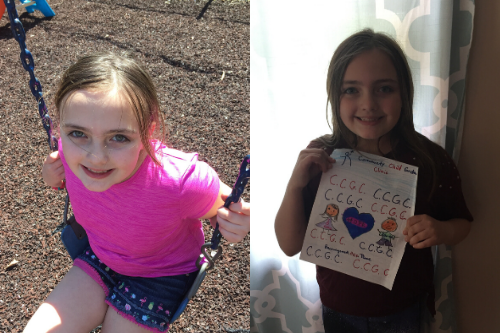 Brooke is nine years old and loves basketball, dancing, baking, drawing, and any kinds of arts and crafts (she's especially into making things out of paper right now). She's also fascinated with all kinds of cats, most especially jaguars and cheetahs. 
Not only did Brooke draw out this design on paper, she also helped turn it into the final digital version you see on this page, making adjustments to colors, fonts, and much more (proving that her artistry isn't just in her ability to draw)! Though her tee shirt says it all, when we asked Brooke what CCGC truly means to her she said, "CCGC has helped me learn strategies on how to be more calm. I love going there because it's fun and I look forward to it." Even now, as CCGC operates remotely, she likes connecting over video call appointments. However, she is also looking forward to being back together in person. We hear you, Brooke, and can't wait to see all of our students and clients someday soon!
To those children coming to CCGC, now or in the future, Brooke wants them to know that even though they might be nervous at first, they'll soon be more comfortable and see that it's not scary at all. When talking about her design, she also mentioned wanting others to know that CCGC is for EVERYONE, no matter who they are. And she is exactly right.
Brooke and her family are so special, and their words mean the world to all of us. It is truly awesome to have these amazing kids as a part of our community.
Why should you buy a Brooke original shirt?
By purchasing one of Brooke's tees, you are supporting the CCGC programs and services that help children of all ages from towns across the State of Connecticut. Proceeds from each sale will go towards providing tangible therapeutic supports for children including books, supplies, games, toys, and more. During these unprecedented times, it is more important than ever that we ensure the best possible resources and continue to serve families in the best way possible. Every tee shirt and sweatshirt sold helps, and is greatly appreciated!