Alana's Story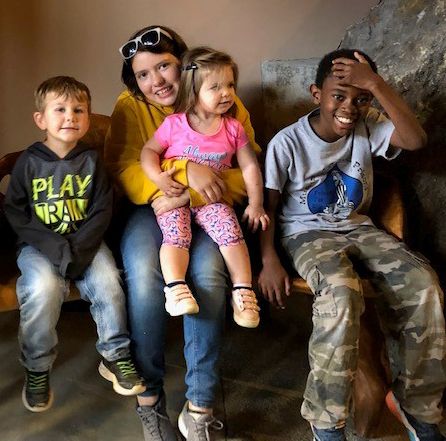 Over the years, my husband and I have fostered and adopted 14 children – all of whom have had special needs and all of whom we love with all our hearts. Our first child was diagnosed with bipolar disorder and schizophrenia, and we knew from the beginning that there were going to be many things out of our control and we would need to seek professional help.
I've come to realize that even though our family is certainly unique, every family is facing their own special set of circumstances that often requires outside help. All of us have our own story!
We had tried other agencies…unsuccessfully.
Before being referred to Community Child Guidance Clinic, we spent some time at another agency. However, it was rarely a pleasant experience. Aside from not getting the needed treatment, the environment was also unsatisfactory. From broken toys to a lack of cleanliness, it wasn't long before we decided to seek out somewhere else that could help us and our daughter.
Coming to CCGC 14 years ago was the best decision we could have made. Right from the beginning, we were made to feel comfortable there. Tina, the receptionist, was so welcoming and the waiting room was inviting and soothing. And while we were there for our daughter, our other children were treated so well by the staff. At CCGC, you are a person first, not just someone who has a child with mental health issues.
Over the years, as we have continued using CCGC's services for our other children, we have been so happy with how we are treated as a real family. Many places will refer to our children as our "adopted son" or "foster daughter." But at CCGC, we are looked at like any other family.
I don't know where we would be without their help.
Our family has been very fortunate with CCGC's services. Five of our children (and now three grandchildren) have received exceptional care from the clinicians and we have been astounded with how accessible they have made themselves. Even if we call, email or text in the middle of the night, we will assuredly receive some type of follow-up the next morning – even if it's just to ask if we are all okay.
They think outside of the box and are constantly researching innovative new ways to treat each child. At one point, our son stopped eating and we didn't know what to do. Our clinician, at the time, took it upon herself to find recipes that he would find interesting. And she continued to connect with and treat him in a way that has worked specifically for his needs.
One thing I can say for certain is the staff really cares about us and everything is customized for each child. They think about long-term goals and make sure that families stay connected even after they leave. Students in the CCGC School also benefit from individual attention and small class sizes – both of which help them in and outside the classroom.
Several years ago, I was asked to join CCGC's Board of Directors as a parent representative and I jumped at the chance of becoming part of the agency's future. Since then, I have seen the need for mental health services drastically increase. At the same time, the State of Connecticut has pulled substantial funding away from health and human service programs, and continues to threaten that more cuts will come. In these times of uncertainty, it's so important to ensure that CCGC has the means necessary to remain the smaller, community-focused, family-friendly agency that it has been for the past 60 years.
But they can't do it alone!
As a community, we need to come together and remove the barriers for families seeking mental health services for their children. With your support, CCGC can continue providing the innovative clinical resources and educational tools necessary to make a world of difference for a child who is scared and struggling to live a "normal" life.
Please, make a gift online today...and help the other families at CCGC who are struggling with mental illness!
With deepest gratitude,
Alana Parkinson
Mom and CCGC Board Member
P.S. - Did you know that CCGC has been supporting children and their families for 60 years and has changed thousands of lives across the Greater Hartford Region? Celebrate this special anniversary with a gift today! Thank you!