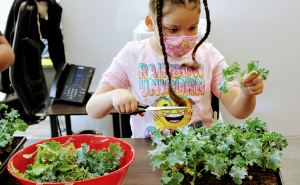 Experiential Learning
Through the development of specific curriculum, our Grow Ahead Program's gardening initiative will not only teach students lessons related to nutrition, but also offer experience based learning about sustainability, the outdoors, plants and animals. These will not only help develop the minds of our students, but will also help engage their bodies in physical activities. We look forward to our new outdoor space being able to be used by our teachers for classes like movement, music, art, science, and teaching life-skills. 
Nutritional Benefits of Hands-On Gardening Programs
When our students from the CCGC school participate in planting and harvest days, they are receiving a hands-on STEAM (science, technology, engineering, arts and math) education. They participate in activities ranging from planting seeds, cutting down ready-to-eat plants, composting soil, and preparing foods, all while receiving lessons on topics like nutrition and plant biology. Although all the immediate benefits of positive nutrition are possible through eating fresh produce alone, research has shown that hands-on education, and specifically involvement all the way from seed to plate, leads to life-long good habits with food and nutrition.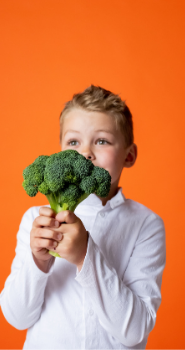 Immediate benefits

- Energy and healthy nutrition from eating fresh produce

Short term benefits

- Choosingly eating more plant-based foods
- Increased interest in eating healthy foods
- Increased willingness to try new foods

Long term benefits

- Lasting positive relationship to nutrition and food production
- Decreased risk of developing an eating disorder
- Decreased risk of obesity and other diet-related diseases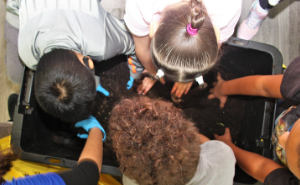 Organic Gardening
In order to grow the most nutrient dense possible food, we exclusively use composted organic soil to grow our vegetables in. The reason for this is because science has shown there is a large link between agricultural practices, soil health, and nutrition. In order to keep our organic soils healthy, the only fertilizers we ever use on our plants are organic too. Composted soils are the most nutrient dense soils, because all of the broken down organic materials in them. When you grow plants in this, all the nutrients from the soil get transferred to the plants, which then get transferred to you when you eat the plants. All foods are at their most nutritious when they are unprocessed and fresh, which is why children at CCGC routinely get to eat and take home fresh produce harvested the same day in our garden.