8 Important Tips for Successful Telehealth and Work Video Calls
By Kevin McMahon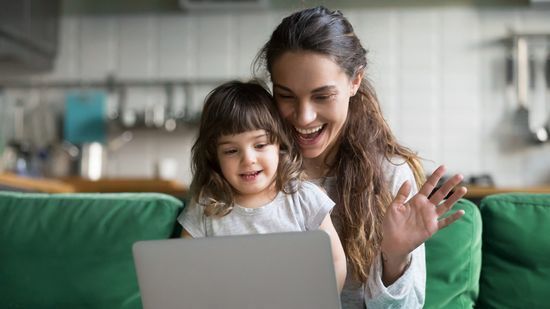 Welcome to the season of Coronavirus, where day-to-day living as we knew it has come to a screeching halt. "Social distancing" has become a household term and everyone across the globe is trying to figure out how to move ahead with normal daily activities. Yes, maybe we can skip the opening night of new movie or take a pass on going to a ball game, but there are certain things that are just too important to postpone.
At the Community Child Guidance Clinic, now more than ever, it's vital that we stay connected with the children we serve. As the practice of social distancing continues, we have been increasing our ability to provide telehealth options to our clients so that they can receive their desperately needed services.
While video calls have become commonplace in many office environments, over-the-phone therapy sessions are now being introduced into households. Whether you are having a conference call for work or calling in to your child's doctor for a weekly appointment, there is a level of etiquette needed to make virtual meetings successful for everyone involved.
1. Choose a Quiet Spot
Make sure you're in a place where you won't be interrupted, taking into consideration barking dogs, outside noises, televisions, kids, etc. You may even want to lock the door to the room you'll be in just to stop people from disturbing you while you're on a call.
2. Audio and Camera Settings
Be aware of your audio and camera settings. . Become familiar with how to start a call, and know where the video and audio settings are located. Keep your microphone muted whenever you're not speaking - even if you're alone in the room – as background noises of any kind can be heard by all. On the other hand, make sure to unmute before speaking. To make everything run smoother, run a test call and make sure everything is working.
Helpful Tip: Keep a pair of earbuds handy to avoid echo problems. They're also helpful with noise canceling to stop you from getting distracted.
3. Internet Connection
Use a wired connection (LAN cable) if possible instead of Wi-Fi for a more stable connection during a call. If this isn't possible, make sure you have a strong signal or try moving your device closer to the Wi-Fi hotspot or router.
4. Camera Position
Moving a camera during a call can be distracting and annoying. For some, it can even trigger motion sickness. However, you don't need a fancy tripod setup. Instead, prop up a phone or tablet using some books.
Keep the camera at least an arm's distance away and try to center yourself in the frame. Be careful that you don't position it too low or too high, and avoid weird camera angles as they can be very distracting -- and unflattering. If two people are going to be using one camera, check to see that you can both fit comfortably in the frame, without have to squish in or continuously move the camera back and forth between faces.
Lastly, look into the camera instead of at your picture on the screen as it will help others on the call feel that you're 100% engaged and present.
5. Lighting
Make sure there is enough light for your face to be seen clearly during the call, but avoid having lights (or the sun) directly behind you as they can add a distracting glare or cause your face to be shadowed out.
6. Clothing
Make sure to dress appropriately for the call. A good rule of thumb is to wear whatever you would if you were meeting face-to-face. Also, avoid distracting colors and complicated patterns as they can cause disruptions on the screen (Ever see someone with stripes on TV??).
7. Minimize Distractions
Try to remain attentive when you're on a video call since everyone can see what you're doing. Avoid checking emails, reading articles, cleaning the house or playing with the dog as it's easy for other participants to see that you aren't fully focused.
8. Be Aware of What's Behind You
Remember that your camera isn't just capturing your face – everything behind you is visible as well! Take a look around before the call and remove inappropriate wall art. It's also good to clean up any coffee mugs, dishes and trash that may wind up on screen.
Remember, practice makes perfect so take a couple of trial runs and get comfortable with your new setup. After all, video chats are essentially in-person interactions that allow people to communicate more effectively.