Siblings of Children with Mental Illness, An Unseen Struggle
by Robin Entress, LCSW Director of Community and Home-Based Services at CCGC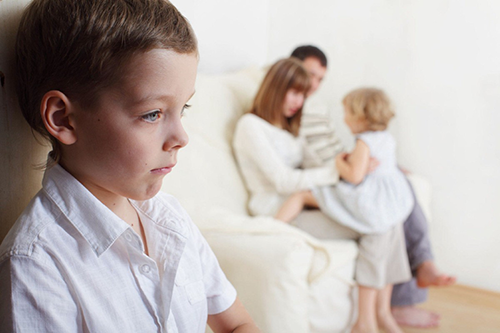 Caregivers of children with a mental illness know it can be really difficult to balance the attention they give all of their children.
Because caregivers are often so involved in facing the struggles of their high-need children, young siblings with less severe needs may be 'out of the loop' and may not receive enough support.  And yet, these children are also profoundly affected by living in households with children with special needs.
All siblings play an important part in a child's life, but those struggling with emotional disorders affect their siblings in unique ways. How might a child be affected?  Each special needs child presents with their own set of symptoms. Some may struggle early on, while others do not exhibit problems until later in childhood. Some experience daily disruptions in the household that can become unsafe, while others have less frequent problems. Even when that is the case, knowing that there is the potential for an emotional or behavioral outburst can cause family members to be hyper-alert to changes in the child's mood or functioning. Depending on their diagnosis, some children may be reclusive and hard to relate to. Others might exhibit behaviors that prevent the family from engaging in certain activities.
In all cases, siblings of children with a mental illness may experience emotional strain.
In moments of crisis, children may feel worry and anxiety for the sibling. At other times they may feel frustration, anger or resentment toward the sibling, and/or guilt for not being more understanding. They may even experience embarrassment or shame when a sibling with a mental illness behaves in a way that isn't expected or appropriate to a situation. These feelings are likely to be conflicting and often intense, and it is important for parents to be ready to discuss, validate, and problem-solve regarding what a sibling is experiencing.
Diane Marsh, Ph.D a professor and member of NAMI (National Alliance for the Mentally Ill) wrote the following: "Frequently, siblings experience intense feelings of anger. The anger may be directed at God or at fate. . . Sometimes it is directed at parents whose energy is consumed by their efforts to cope with the mental illness. Anger may also be directed at their brother or sister for disrupting family life or for not getting better. And sometimes the anger is turned inward because of their inability to protect and rescue someone they love." All family members will likely feel a sense of loss that may come up at different times in the child's development.
Siblings' behaviors are impacted as well.
Some younger children may copy a sibling's negative behaviors. Some children may take on a 'helper' role, acting older than their years and may go out of their way to be independent. Often, they do this so as to not further burden their caretakers. Greater responsibility is sometimes placed on healthier children. Younger children may not have developed the coping skills to deal with their own intense feelings. They are very dependent on their caregivers, who may be focusing a good deal of time and energy into caring for the more "needy" sibling. There is also a stigma associated with mental illness and children may be reluctant to share their situation with people outside the home.
As noted, one child's difficulties impact the entire family, but often help is sought by one caregiver for that child. The relationship between that caregiver and that child may be addressed, but often other family members are left out of the treatment. Of course, helping child and caregiver should have a positive effect on the family; but other family members may need additional support.
So what do know these siblings need?  What would lessen the impact of the illness?
Advice for Caregivers:
Have open communication. Share information about the illness and its effect on the brother or sister. Make sure the sibling knows they are not to blame. Reach out and listen to the sibling's concerns and stories.  Let the sibling know that it is normal to feel a range of feelings.
Pay attention to the sibling's needs. Make sure you spend special time with the sibling.  Make sure the sibling has outside activities and friendships. They need to have breaks and be involved in normal activities. Support any plans they have for their own  futures and let them know that their goals are important. Consider involving the sibling in in a support group or counseling. Ask the challenged child's therapist to include siblings in some sessions or to recommend a therapist for the sibling.
Help your child learn effective coping skills to deal with a crisis and to deal with their intense feelings.  Talk about how to handle questions from peers and other outsiders. 
Strengthen the family unit. Look for outside resources for when a child is in crisis.
If possible, focus on the present rather than worry about the future:  "If you find yourself thinking those thoughts, try to turn them to, what can I do now? Can I make my daughter's favorite food and make her feel better? Can I watch a movie with my children and relax with them right now?" (Jill Emanuele, a clinical psychologist at the Child Mind Institute)
To get you started in finding coping skills to learn with your child, here are some helpful websites:   
15 of the Best Coping Mechanisms for Kids (AT Parenting Survival)
Developing Coping Skills, Five Ways to Help Kids Who Struggle with Self Control (Understood.org)
18 Coping Skills and Activities (TheHelpfulCounselor.com)
Keep in mind that "most adult siblings said they had become better and stronger people as a result of their encounter with mental illness."
(Christopher Griffiths, Rethink.org). There is a maturity and sensitivity that can develop in these siblings. If not overly relied upon, siblings can have a positive impact on their sibling, by offering support, opportunities to socialize, and help with recovery. "Siblings have also reported benefits related to the family unit, such as more resilience, more cohesive working and more family supportiveness (Sin et al., 2008).They may also gain coping skills and knowledge through their experience that they can use to benefit their own lives" (Christopher Griffiths). So despite all the trials a sibling goes through, you can develop a strong bond and not only protect them from some of the negative effects, but raise a mature, sensitive and empathic member of society. 
Resources:
National Alliance for the Mentally Ill (NAMI) Supports the client and family members
Nami Helpline: (800) 950-NAMI.
NAMI Of Manchester
Address:NAMI of Manchester
Email Address: josephnavarra@sbcglobal.net
Website: https://www.facebook.com/NAMIManchesterCT/
Contacts   Mr. Joseph Navarra  President
The Rethinking Mental Illness organization, based in London, England, has a website with a section for siblings. The section includes a toolkit for siblings to focus on their well-being and to support the sibling.
https://www.rethink.org/carers-family-friends/brothers-and-sisters-siblings-network/get-info-and-advice/sibling-toolkit/tools-to-help-you-think-about-your-wellbeing