Vision the Future: CCGC Announces New Strategic Plan
By Jamie Bellenoit, PhD, LMFT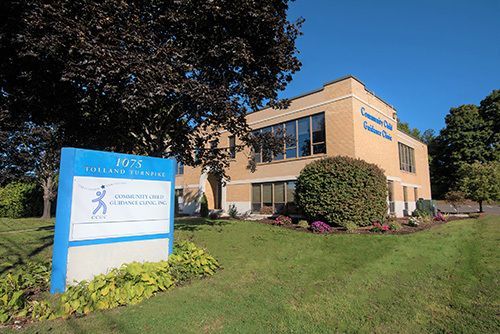 A letter from our CEO, Jamie Bellenoit:
For more than 60 years, the Community Child Guidance Clinic has helped children grow up happy and healthy by providing mental health and special education services for families across central Connecticut. From its start as Manchester's first children's mental health agency, CCGC has never wavered in its commitment to growing services and programs in a way that makes children's lives better year after year. As the world changes and new treatment options emerge, we will always strive to be the most trusted provider for the communities we serve, adapting to meet the changing needs of our families.   
We are committed to providing exemplary service in each program offered and to expanding or adding clinical services that can bring help to families in new ways, whenever we can. In order to do this, it's imperative we leverage our unique strengths. We must continue to build upon the unmatched quality and breadth of care we provide and the passion and dedication of our talented staff. Following the direction laid out in our newest strategic plan, we will continue our journey and keep working towards these goals. The plan outlines five key goals for the agency: 
Grow CCGC's sustainability by raising awareness and diversifying funding sources. 
Strategically grow and adapt CCGC programming to increase impact and access. 
Bolster and leverage our clinical strengths to position CCGC as the region's provider of choice for children's mental health care. 
Build the operational foundation needed to support CCGC's strategic ambitions. 
Grow and continually improve the Board of Directors along with the organization.
We are also devoted to increasing the diversity amongst our staff and Board of Directors, as well as promoting inclusion across the agency. Not only will this provide a healthier environment for our staff, but it will also ensure that we are creating a community of inclusivity and acceptance for the families receiving mental health and special education services at CCGC. This means a commitment to fair and accessible recruitment practices and an organizational culture that is welcoming and inclusive. Our special education curriculum must also expand to include more diverse perspectives and ideas, and towards that end, we look forward to collaborating with others in our Connecticut communities. 

As we move forward, I'm excited to see how we come together to provide and enhance the compassionate care we are known for and that our families depend upon. 

My deepest gratitude to our Board of Directors for their leadership and support. A working group of the Board of Directors – Lee Hay, George Michna, Gregg Tolman and Graeme Peña  - dedicated many hours to guiding the planning process, while the full Board engaged deeply in developing the direction and strategies.  Our senior leadership team were instrumental in the process and in shaping the final outcome. We also had the honor of working with Devon Dabbs and Laura Post from Fio Partners as our strategic planning consultants. They engaged with both internal and external constituents to put together a comprehensive, forward-thinking, innovative plan that encompasses all of our goals for the next three years. I want to express my sincere thanks to all of the people I've just named, as well as countless others who had input along the way.
I'm proud of what we've accomplished, committed to strategically moving our vision forward, and excited and grateful for the opportunity to continue helping children and families live healthier and happier lives.
- Jamie Bellenoit, PhD, LMFT, Chief Executive Officer