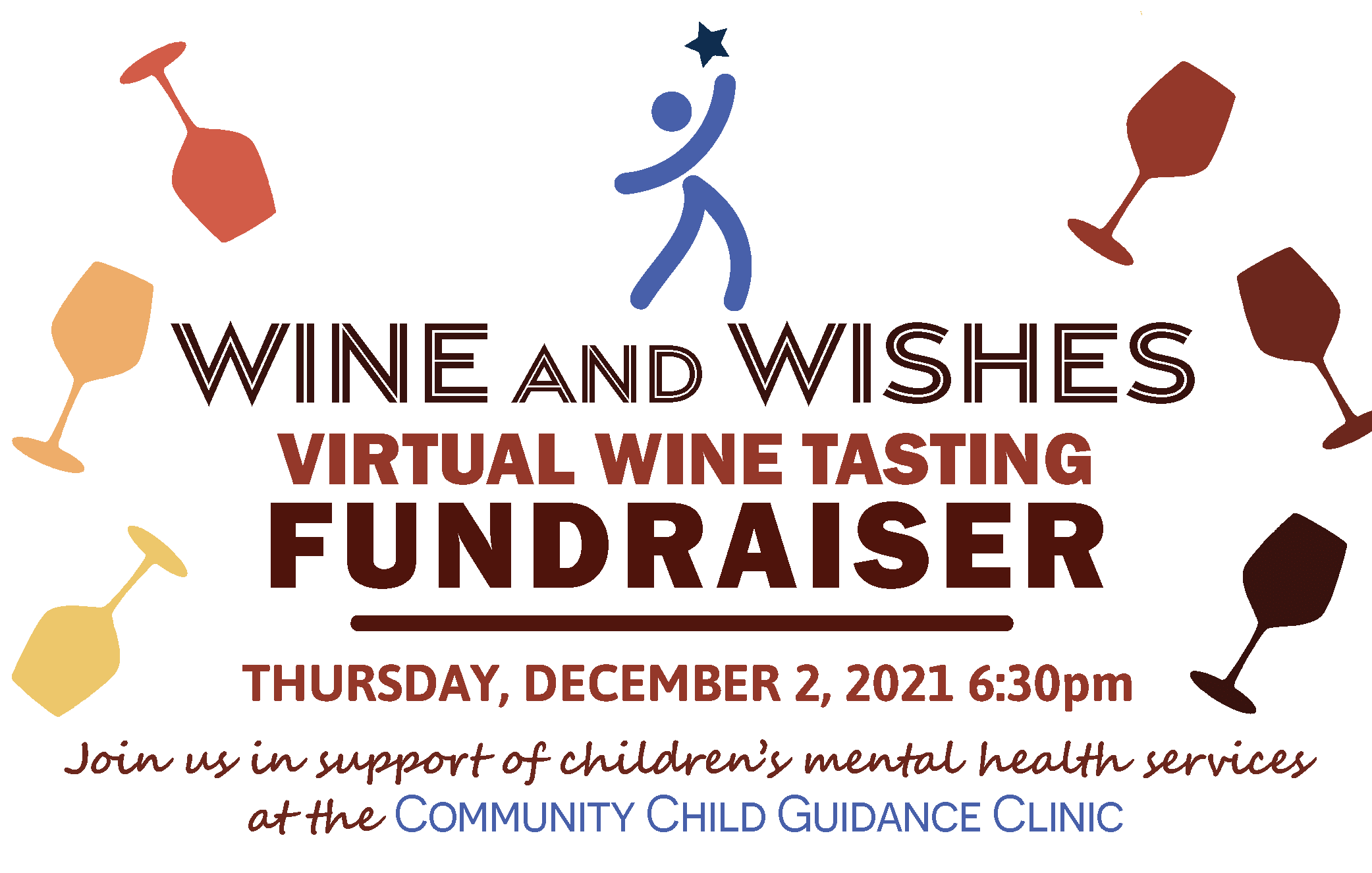 Thursday, December 2, 2021 6:30 pm
Wine and Wishes: A Wine Tasting Fundraiser
ABOUT THE EVENT
Be a part of the Community Child Guidance Clinic's Second Wine and Wishes fundraiser and help support children's mental health and special education services!
Even though we still can't wait to see you all at our next live and in-person event, we are truly looking forward to an evening of fun and celebration, live-streamed to you in the comfort of your own home. We are once again excited to bring you a guided virtual wine tasting (this year in partnership with One Hope Wine) along with some interactive entertainment and chances to win prizes! Join in for some or all of the event, but most importantly, don't miss this chance to support the kids in our community who need our help!
WHAT TO EXPECT
Join us on December 2nd at 6:30 pm and experience the magic that happens when a community comes together for an important cause. Hear some of CCGC's stories of hope and learn about how to support CCGC's important goals that will continue to provide impactful and innovative mental health services to the children we serve. Throughout the evening, guests will enjoy a live virtual wine tasting, with a specially curated assortment brought to us by One Hope Wines, and revel in the delicious treats from local chefs at the DORO Restaurant Group (shout outs to both of these groups, as they are making sure that all of your purchases directly benefit CCGC!). Participants will also have chances to win prizes and giveaways, including a customized trivia game. Don't miss this entertaining evening and the chance to support this important cause in our community.
HOW TO PARTICIPATE
Tickets: On our event page (see button below), you can purchase a virtual event ticket to view the live stream event. 100% of ticket sales benefit CCGC!
Wine for purchase: If you are interested in purchasing wine from our partner, One Hope Wines,  click here! When you use this link specifically, 10% of all wine purchases will go back to benefit CCGC. You can use this link to make purchases even if you don't attend the event. *Please note: wine purchased now through the end of the fundraiser will almost certainly arrive after the live stream event on December 2nd. But don't worry! One Hope Wine is good to enjoy any time!
Other ways to support:  Can't attend on the day? You can still visit our event page to make a donation in support, and leave a message for CCGC. Or simply visit our general donation page.
After purchasing tickets: watch your email for updates. Before the day of the live stream, we'll send you a few more details about the live stream event, as well as instructions on picking up food, if you choose to purchase. On December 2nd, we'll send you the special link to view the live stream, which will include the wine tasting. At this point, you're all ready for the event! 
WHAT'S NEXT
Watch your email and follow us on Facebook and Instagram for updates before the event! On the day of Wine and Wishes, we'll email all of our ticket holders a special link to view the live stream using the email address provided at check out! 
Get in touch! If you have questions about wine, food, tickets, or donations for Wine and Wishes please reach out to Molly Getchell at MGetchell@ccgcinc.org or (860) 643-2101 x217.